Faith Food Pantry is a ministry of River of Life Church that gives out food and household supplies to residents of Over the Rhine and some surrounding communities. We are in the back of River of Life Church at 2000 Central Parkway. We serve over 150 people per month. Much of the food comes from the Freestore Foodbank for free or at greatly reduced prices. Our funding comes from grants, the Hunger Walk and church and personal donations.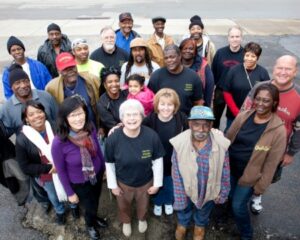 Faith Food Pantry is a choice pantry, unlike most pantries. We have shopping carts just like a grocery store so recipients can walk by shelves filled with different items and pick out what they want. The pantry provides many items including canned goods, frozen meats, fresh produce, breakfast items, 100% juices and more. We also give out other items when they are donated such as clothes and books. Many of our volunteers are recipients from the pantry. We also have volunteers from our church, and from other supporting churches throughout the area. The ultimate goal of our ministry is to introduce people to Christ. We want every person that walks through our doors to know that they are loved by Christ and by His Church. We try to minister to people as they come through the pantry by praying with them, spending time with them and ultimately inviting them to church. Quite a number of people from the pantry attend or have joined our fellowship and we continuously strive to meet the physical and spiritual needs of the people in and around our community, and beyond.
In order for Faith Food Pantry to accomplish its goals, several objectives need to be met on a weekly basis, we strive to:
Create an atmosphere for pantry participants to feel loved, accepted and share the love and hope of Christ with them
Distribute food, toiletry and light cleaning products
Provide valuable information about community resources
Faith Food Pantry is Located at:
River of Life Church
2000 Central Pkwy
Cincinnati, Ohio 45214
We are open Saturday mornings, from 9:00 am to 12 noon.